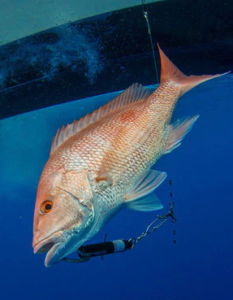 Saltwater fish caught in deep water may be suffering from "barotrauma," a buildup of swim bladder gases that makes it difficult for them to return to their natural depth. Generally, fish caught deeper than 30 feet will suffer some effects. Signs of barotrauma include sluggish swimming, bulging eyes, stomach protruding from mouth and bloated mid sections.
Rapidly returning fish to depth is the method of choice for affected fish. A variety of tools are on the market including descender devices, release weights and baskets.
As participants of the program, captains, guides and avid saltwater anglers are being provided with descending devices such as the Seaqualizer. In the first year of the program, 1,000 – 1,500 anglers will participate. Additional anglers will be recruited in the second year based on funding and equipment availability. State fishing agencies in North Carolina, South Carolina, Georgia and Florida as well as Yamaha dealerships in the project area will provide information on best practices and register the participants who will receive a device.
In a similar program conducted in the Gulf of Mexico, an estimated 3,000 – 9,000 fish were saved.
To learn more about descending devices, check out the video from Seaqualizer below.